Core Team
ChessBrain was created by Carlos Justiniano and Colin Frayn and today the project is supported by thousands of people from over fifty different countries around the world.
The core ChessBrain team consists of individuals operating from a number of different countries around the world.
Carlos Justiniano (US) handles network server and applications development, and Colin Frayn (UK) handles the chess engine research and development.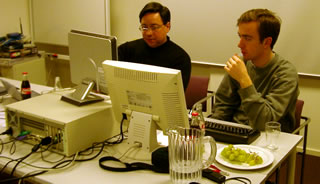 The following individuals played key roles during the world record attempt
Cedric Griss Distributed Computing Foundation.

Handled sponsorship, coordination and many other tasks.


Peter Wilson
Resident chess authority and project chess ambassador.



Gavin Roy
ChessBrain Network Infrastructure.

FM Eric Schiller
ChessBrain opening book, chess consultant.
The world record attempt was supported by other core members
Carlos Lora
Site development, graphics, application design, testing.

Oliver Otte
PHP, Perl Programming, Database, site development.

Sven Herrmann
OpenGL 3D Graphics, Animation.


Anthony Bravo
Java applet work, testing.
Randy Adams


PeerNode Testing.

Pim Bollen
PeerNode Testing.
Sebastian Spaeth
Autoupdate, testing.
Honorary ChessBrain team members:
The ChessBrain team would like to thank the Danish Unix Users Group for hosting the ChessBrain World Record attempt and supporting our efforts in Denmark!
Kenneth Geisshirt
Key person responsible for organizing ChessBrain's World Record attempt in Denmark!

Benny Kjærgaard
Network debugging during the event.