What is ChessBrain?
ChessBrain is a virtual chess supercomputer using the processing power of Internet connected machines.
On January 30th 2004 ChessBrain made history by becoming the first distributed network to play a game against a single human opponent.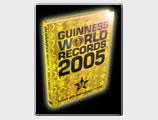 ---
Project Status
ChessBrain II is currently under development. The new design aims to be considerably more scalable.
---
Powered by:
The ChessBrain project is powered by Open Source software, including the following key projects.
---
Protected by:
ChessBrain News and Events
Our Hosting is provided by EHPG Networks
Solid. Reliable. Unyielding.